Hello everyone!
Today Team Echinacea was extremely productive in all of our endeavors. In the morning the team continued the search for Stipa (a.k.a. porcupine grass) that was planted in the common garden. After about a hour we switched gears and looked for flowering echinacea plants in the common garden in preparation for the crossing experiment this summer. Reina and Pam continued collecting data on photosynthetic rate and even finished a portion of their data set! Huzzah!
After lunch we had time to work on our individual projects! Ilse continued her work on "R", Sarah B got a solid amount of data entry done, and worked on her data sheets. Marie, Dayvis and Sara Z went to Hegg Lake to look at hybrids and Echinacea pallida respectively. Gretel and I made pollinator exclusion bags for my project, as well as the crossing experiment. Here is Gretel cutting the bridal veil!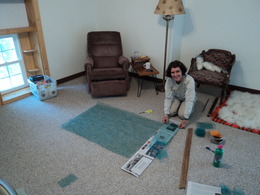 And me sewing the bags together! I got to work on a awesome old singer sewing machine (the best part is that it folds into a desk!).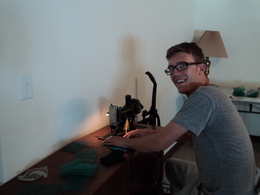 Thats all from me today! -Kory