Nancy Braker and Marie Schaedel came to visit today! Nancy is the director of the Cowling Arboretum at Carleton College and Mary was a member of Team Echinacea 2013. They are also good friends of Jared's and mine and prairie enthusiasts–so there was no disagreement about how we should spend our time.
We spent the day on a grand tour of three of the area's largest and most diverse prairie remnants: Staffanson Prairie (right here in southwest Douglas County), Seven Sisters Prairie (near Ashby in Otter Tail County), and Strandness Prairie (Pope County). All are owned and managed by the Nature Conservancy. Every few steps we would find a new wildflower, grass, or insect to inspect, identify, and appreciate. It was a nice reminder of why we spend our days toiling in experimental plots and roadside ditches: to preserve the vibrant beauty of the healthy prairie.
Here are a few photos from our journey:
The sumac forest at Seven Sisters swallowed all but Jared's binoculars.

In western Minnesota, a little elevation goes a long way (on top of Seven Sisters, 190 feet above Lake Christina).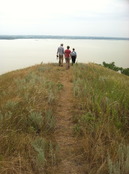 Echinacea at Strandness Prairie. They look a little weird without flags and tags.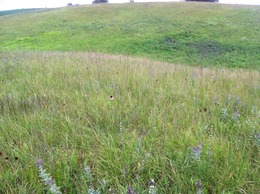 Prairie peeping makes for happy campers. (Strandness Prairie.)