In 2015, we continued to gather demographic information on Echinacea angustifolia in remnant prairie populations. We went to 32 remnant prairies ranging size from 1 flowering plant to 289 flowering plants. This year at our largest site, the Staffanson Prairie Preserve,  we collected demographic information on 318 individual plants including 175 flowering plants. Across all the sites, we found 1561 flowering plants and visited a total of 1889 plants. For each plant that we visit, we record whether the plant is alive, whether the plant is flowering, and how many flowering heads it produces.
We currently have former team member Lydia English and current team member Will Reed working on organizing the previous 20 years of data using methods that Stuart, Jared, and Gretel developed last year. So far we have organized data from 2010-2015 (years we used GPS units) in 10 sites and data for all 1995-2015 for Staffanson Prairie Preserve.
Read previous posts about this experiment.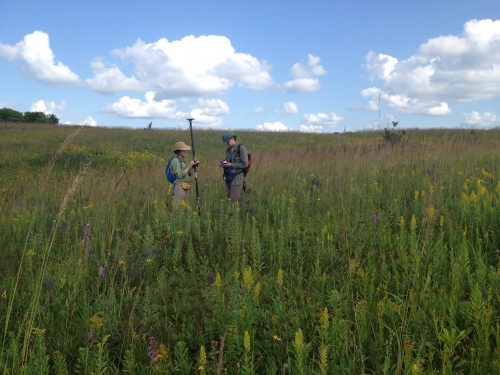 Start year: 1995
Location: more than 30 remnant prairies in and near Solem Township, Minnesota
Overlaps with: fire and flowering at SPP, flowering phenology in remnants
Products:
Wagenius, S. 2006. Scale dependence of reproductive failure in fragmented Echinacea populations. Ecology 87:931-941. PDF | Supplemental Material
Project "demap" – organized survey, demography, and phenology data.