Spring has caught up with us quickly and now it's almost summer. We're getting prepared for a new field season and finishing up some of our lab projects.
Our sprouts are in the ground! It's been quite the germination process. We had an overall germination rate of 97% for all sprouts with a E. pallida mother and an overall germination rate of 87% for sprouts with an E. angustifolia mother. That's a lot higher than we expected! Consequently, our plug trays were very full.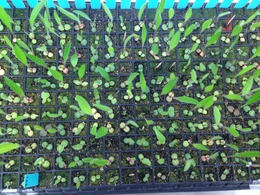 Germination also spanned more than a month, with our first radicals emerging on April 7th and our last emerging on May 8th. We measured all sprouts when they were 21 days old and decided to take leaf tissue samples when they were 28 days old. The tallest sprout was a whopping 7.4 cm. We took leaf samples primarily to be able to analyze the sprouts' DNA and perform paternity tests since we also have tissue from their parents. This will be a project for a future date.
Alex, our Lake Forest College intern, has finished up his analysis on the heads in the aphid addition/exclusion experiment and is working on a report that we will post in the coming weeks.
We had our annual Volunteer Appreciation Potluck last week. Gia came and presented some of her ant data and Gretel and I talked about some of our recent research. We're so lucky for all the help we receive from our volunteers, we really couldn't do our research without them. Although there are many steps in Echinacea workflow process (cleaning, scanning, counting, randomizing, and weighing/x-raying) we decided to recognize one of our volunteers, Lois, as the "Achene Queen." Since we've transferred all our counting to an online database, Lois has counted over 350,000 achenes!