Volunteer citizen scientists are indispensable to the success of the Echinacea project. Each year they collectively contribute hundreds of hours of service and innovative ideas to enhance the speed, accuracy, and efficiency of data collection. Many of them also bring the aroma of freshly popped popcorn when returning from their well-deserved breaks.
Our volunteer citizen scientists help process and analyze Echinacea heads to estimate reproductive fitness of individual plants. Each year we bring hundreds (often thousands) of Echinacea heads back to the Chicago Botanic Garden from our experimental plots in Minnesota. These heads need to have their achenes (fruits) removed, which is often a prickly process–the name Echinacea is loosely translated as, 'thing of spiny-ness.' Later the achenes from each head are placed in a tray and scanned to create a digital image. Then our indefatigable volunteer scientists count the numbers of achenes in each image; between all the heads we bring back, the total number of achenes each years ranges in the hundreds of thousands. The average number of achenes per head is usually 140 – 150, but individual heads can have a few as 1 achene (if there are zero, it's really not a head) and over 400 (over 300 is rare). Finally, a random sample of achenes from some of the heads will be weighed or x-rayed to assess whether they contain a seed.
Read flog posts about our volunteer citizen scientists as written by members of Team Echinacea. Volunteers help out with germination experiments and assist with all of the many other things we do in the greenhouse and lab. We appreciate all of their contributions!
In fall 2015 we made a series of profiles of our citizen scientists. Read about them here:
Aldo, Anne, Art, Bill, Bob, Char, Kathryn, Laura, Leslie, Lois, Lou, Marty, Naomi, Shelley, Suzanne, and Susan.
Note: two volunteers declined to have profiles posted due to modesty or to hide their identities as international spies–we won't blow your cover. Read profiles here
---
June 2015
Team Echinacea at the volunteer citizen scientist luncheon at the Chicago Botanic Garden.
---
June 2008
We're starting to record the number of hours worked by volunteers for the Echinacea project: they accumulated almost 300 hours between the beginning of January 2008 and the end of March 2008!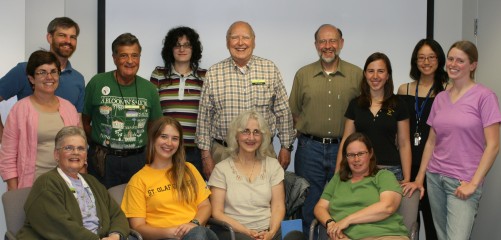 Here's a photo from our volunteer appreciation luncheon on 5 June 2008. We shared some great food, told fun stories, and heard about accomplishments from the past year. Front row (L to R): Char, Jennifer, Marita, and Pat. Back row: Anne, Stuart, Art, Christine, Bob, Bill, Lani, Denise, and Julie.
---
Chicago Botanic Garden (September 2007 – June 2008)
Art Abt
Pat Babbin
Anne Coughlin
Marita Kuhl
Bob Mueller
Owen Ratliff
Pat Sommers
Charlynn Schweingruber
Suzanne Turner
Bill Wallin
Chicago Botanic Garden (September 2005 – August 2007)
Art Abt
Anne Coughlin
Erin Ellis
Milton Engel
Elaine Juhl
Marita Kuhl
Bob Mueller
Mary O'Conner
Theresa Paluch
Amy Schuetz
Charlynn Schweingruber
Suzanne Turner
Bill Wallin
Chicago Botanic Garden (May 2004 – June 2005)
Art Abt
Aldo Crovetti
Sam Darin
Phil Hiller
Elaine Juhl
Marita Kuhl
Bob Mueller
Melissa Pierson
Janet Rizner-Backs
Amy Schuetz
Charlynn Schweingruber
Suzanne Turner
Bill Wallin
Chicago Botanic Garden (November 2001 – May 2004)
Unfortunately we're missing some lists of volunteers prior to May 2004.
We'd also like to give thanks to all the Lake Forest College students who have served as short-term volunteers over the years as part of their Plant Biology class.