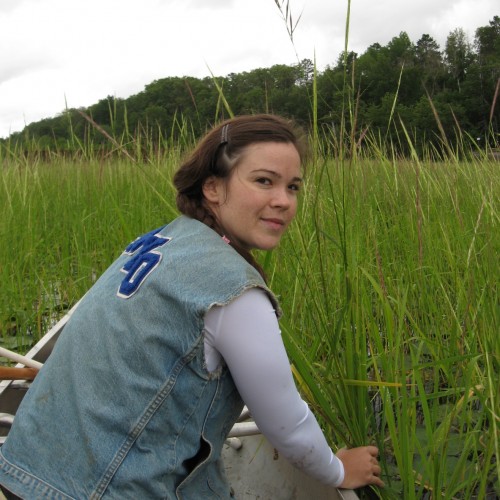 B.S., Biology, Northland College, 2000
M.S., Conservation Biology, University of Minnesota, 2010
Ph.D., Plant Biological Sciences, University of Minnesota, 2010-
Research Interests
Community ecology of Fabaceae members of prairie plant communities, particularly Dalea purpurea (Purple Prairie Clover).
Statement
It is my goal to investigate the relationships between legumes and other members of their ecological communities.
Publications
Eule-Nashoba, A., Biesboer, D., and Newman, R. 2011. Seed Size in Lacustrine and Riverine Populations of Wild Rice (Zizania palustris L.) in Northern Minnesota and Wisconsin. Botany (In Press).
Andow,D., Bauer, T., Belcourt, M., Bloom, P., Child, B., Doerfler, J., Eule-Nashoba, A., Heidel, T., Kokotovich, A., Lodge., LaGarde,J., Lorenz, K., Mendoza, L., Mohl, E., Osborne, J., Prescott, K., Schultz, P., Smith, D., Solarz, and S., Walker, R. 2011. Preserving the Integrity of Manoomin (White Paper). University of Minnesota and Anishinaabe nations of Minnesota.
Grotheer, S.A., Hood, R.A., and Eule-Nashoba A. R. 2007, Biomass SOP / Custom Proposal NAQWA 2172: U.S. Geological Survey, National Water Quality Laboratory standard operating procedure BIOB 0333.1B
Presentations / Posters / Meetings
Presentation: Save Our Rice Alliance – August 2009
Poster and Facilitator:  Manoomin Symposium – August 2009
Judge: National American Indian Science & Engineering Fair and EXPO – March 2010
Presentation: Horticulture Departmental Seminar, University of Minnesota – December 2010