After our day was delayed by rain, we started off the morning with remnant phenology. Groups headed to the landfill site, Staffanson Prairie Preserve and other remnants. We shot several points at Landfill, East Elk Lake Road and Around Landfill. We got a lot done in the morning!
We had a late lunch and then headed back out into the field. Three of us went to Hegg Lake and put twist ties on flowering plants in Jennifer's plot. there is a ton of flowers out there and we are almost a quarter of the way done! I will be doing a project involving the plants in Jennifer's plot (p2) looking at the heritability of flowering phenology in Echinacea angustifolia. It is great to have a lot of flowers in p2!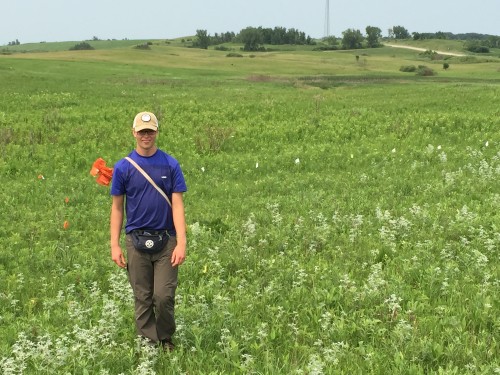 Here is Ben after twist tying about 70 flowering Echinacea heads in p2, Thanks for the help Ben!