Project pollinator competition is going well, although it has had its issues, mostly involving my camera/pole/counterweight apparatus. I have chosen my plants and four sites, all roadside: Nessman, Railroad Cross, East Elk Lake Road, and Northwest of Landfill. I am surveying plants that have flowered synchronously except for Nessman where I can survey the entire population. In total, I will record data for about 26 plants and 33 heads.
It was very difficult to get my camera high enough to get a 3 m radius around the plants. Hence, I will be taking multiple pictures of each plant to try to get the distances from the potential competitors to the Echinacea. I've done some test shots in the field, and using 1m white "x"s made previously by the kite team has helped a lot to orient myself in the photos and to see how many pixels (not "pickles" like I said to a friend on the phone) are in a meter in each picture. I shot pictures for one of my study plants at Railroad Crossing and also took field measurements for distances from one plant to the other. I repeated the measurements with ImageJ and found that there is only a 2-6% difference in the methods, so I can use them interchangeably! I'm super pumped! This makes much more sense for sites that have few surrounding plants.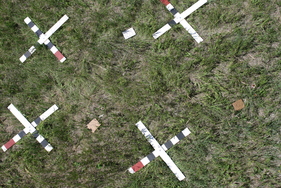 A couple plants at East Elk Lake Road. Each of the Xs are uniquely marked, and the cardboard next to the plant is its tag number.
Today, Lecia and I went out to take field measurements. We measured the distances to each potential competitor and the number of florets on those competitors. We used this method for all of the plants at East Elk Lake Road and Railroad Crossing because the competitors are not as dense. But not to worry, for Nessman and Northwest of Landfill I will use the aerial photography. I counted style persistence on all of my plants except for Nessman, which Ben and I did two days ago. Neither are ready for the cameras yet, since some of the Nessman plants have yet to flower and the NWL plants are only on their second day.
Stuart asked for a timeline:
Tuesday (Jul 22nd): Morning or afternoon: take someone who can drive stick with me to nessman and nwlf to take photos, also take style persistence data at all four sites.
Wednesday(Jul 23rd): Morning or afternoon: If we don't get all of the photos that we need, I want to go out the next day to make sure that all of my measurements are available on the photos.
Friday (July 25th): I need an hour or two myself to take style persistence data.
Monday (July 28th): Also style persistence data (1-2 hours alone)
Thursday (July 31st): more style persistence
Monday (Aug 4th): style persistence
etc. until all of the Nessman plants are done flowering. I can analyze data/pictures on rainy days and on my own time.
Thats the plan!