Poor weather conditions delayed demo this year but did not dampen our spirits! In 2019 Team Echinacea added 4031 visor records to demo and 1431 GPS points to surv. The largest effort this summer occurred at Aanenson where eight team members took demo records on over 200 flowering plants. We found flowering plants at Northwest of Landfill with tags from 1995 in situ, meaning the plants were at least several years older than most of the team. We also found non-angustifolia Echinacea invading prairie remnants Dog and Yellow Orchid Hill.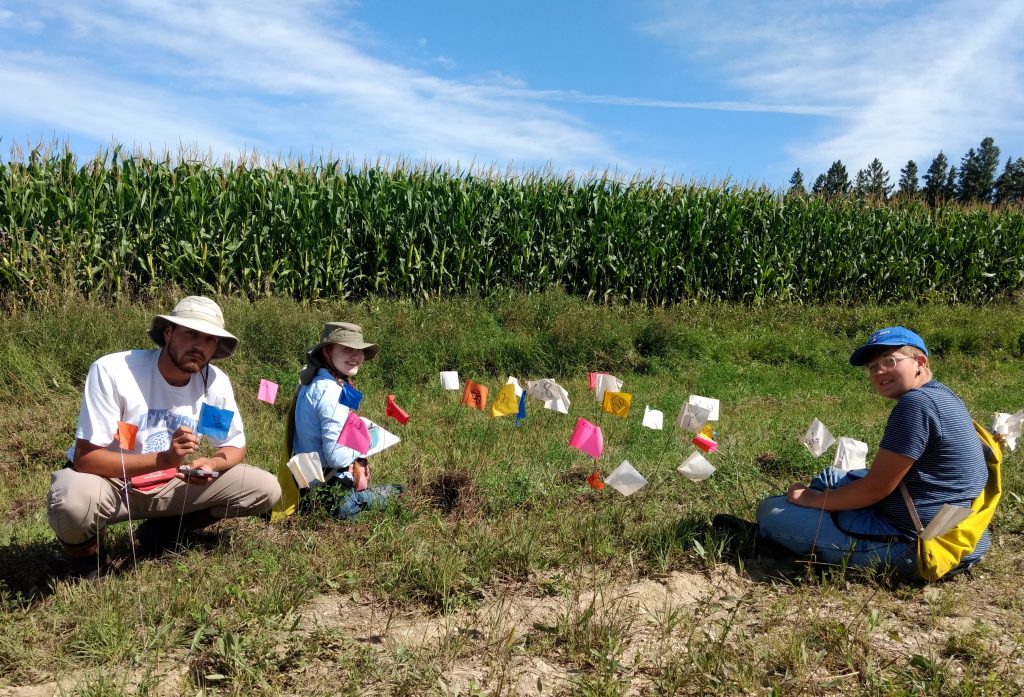 This year we performed demo and surv at 32 prairie remnants and 10 additional sites with angustifolia populations. For our smaller sites we visit every mature plant (ones which have flowered before.) At the larger sites we measure a subsample of the mature population. At every site we also perform flowering demo, where we visit plants which flowered for the first time or were not included in the subsample. We record the status of each plant we visit, its neighbors and the number of heads it produced. All flowering plants are tagged and shot in surv, and in the coming months we will use demap to reconcile the 2019 demo and surv records with each other as well as those from previous years to construct our spatial dataset of reproductive fitness in the tallgrass prairies of our study area.
Total Demo
Bill Thom's Gate, Common Garden, Dog, East of Town Hall, Golf Course, Hegg Lake, Martinson's Approach, Nessman, North of Golf Course, REL, RHE, RHP, RHS, RHX, RKE, RKW, Randt, Railroad Crossing Douglas County, South of Golf Course, Sign, Town Hall, Tower, Transplant Plot, West of Aanenson, Woody's, Yellow Orchid Hill
Annual Sample
Aanenson, Around Landfill, East Elk Lake Road, East Riley, KJ's, Krusmark's , Loeffler's Corner, Landfill, North of Railroad Crossing, Norwest of Landfill and North of Northwest of Landfill (lumped,) On 27, Riley, Railroad Crossing, Steven's Approach, Staffanson Prairie
In addition to the annual collection of data, this year Erin began developing a study to investigate whether flowering return interval and isolation by distance are correlated in Echinacea.
Start year: 1995
Location: Unbroken (never tilled) remnant prairies in Douglas County, MN, located along roadsides, nature preserves, railroad right-of-ways and privately-owned land.
Overlaps with: Flowering phenology in remnants, fire and flowering at SPP, reproductive fitness in remnants, EA fire & fitness
Data: Access the most recent copies of allDemoDemo.RData and allSurv.RData at ~Dropbox\demapSupplements\demapInputFiles. Demap accepts these files and the demap team will clean and reconcile them in the demap repository. ~Dropbox\geospatialDataBackup2019 houses the raw GPS jobs while the aiisummer2019 repo houses the raw demo records.
Data related to the flowering isolation study can be found in the floiso repository (contact Erin Eichenberger for access) and in the folder ~Dropbox\floweringIsolation2019
Products: Amy Dykstra's dissertation included matrix projection modeling using demographic data
Project "demap" merges phenological, spatial and demographic data for remnant plants
You can read more about the demographic census in the remnants, as well as links to prior flog entries mentioning the experiment, on the background page for this experiment.