This summer Jay Fordham conducted an experiment in experimental plot 8 to determine an effective method for eradicating Fraxinus pennsylvanica, or green ash. Team Echinacea is concerned with the spread of green ash in our experimental plots because it crowds out native herbs. The Echinacea in exPt8 may be at particular risk due to their young age relative to individuals in other plots. A prior attempt to manage ash in exPt8 with triclopyr (brand name Garlon) largely failed, resulting in only 3% mortality.
Jay devised three treatments of  triclopyr application to green ash. The three treatments were 1) A foliar application where he painted all leaves with triclopyr; 2) A bark application where he cut each ash 10cm from the base and applied triclopyr to the remaining above-ground stem; and 3) A cambium application where he cut each ash 10cm from the base, scraped off the exterior bark with a knife, and applied triclopyr to the remaining above-ground stem. He divided exPt8 into 35 treatment sections and randomly assigned a treatment to each section. He then randomized the treatment application order and, with the help of the team, treated 438 green ash trees from July 22nd to August 8th. Jay then assessed ash mortality on August 27th and 28th and found the cambium application to be most effective. Jay presented his findings at the 2019 Midstates Undergraduate Research Symposium in St. Louis on November 1-2. His presentation is available to view and download here.
| | |
| --- | --- |
| Triclopyr treatment | Mean Proportion Dead Stems |
| Foliar application | 0.005 |
| Cutting and bark application | 0.333 |
| Cutting and cambium application | 0.498 |
In addition to the green ash management experiment in exPt8, the team removed Bird's-foot trefoil from exPt1 and along the bordering road. The team also removed sweet clover from within and around exPt1, exPt2 and exPt3. The team cut back sumac from the easternmost rows of exPt1.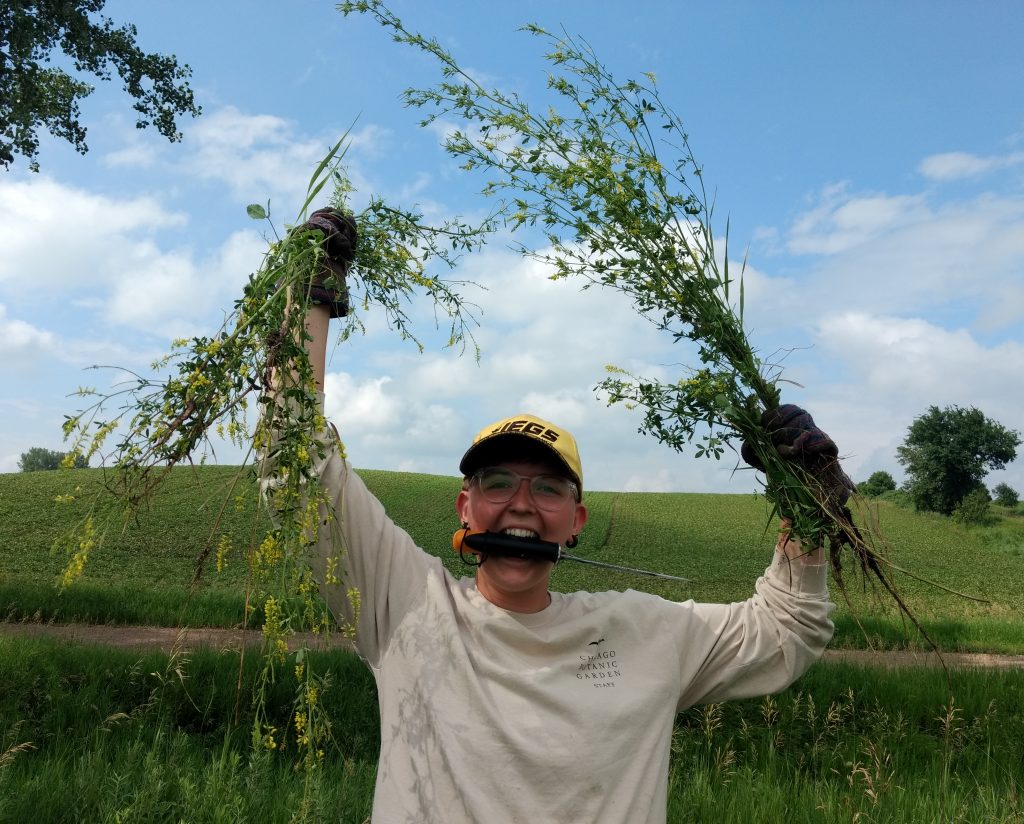 In June the team planted Asclepias viridiflora in exPt1 at regular intervals. Stuart initially assessed approximately 124 surviving plugs prior to planting. Erin and Riley, while pulling flags marking the planting locations in September, did not observe any surviving milkweed plants. The team also planted Carex gravida and Carex brevior in the path around exPt1. The team planted three of the same carex species at each location in a triangular configuration. Erin shot the planting positions with the GPS pole in the center of the three plants, or between two where two survived, or north of a single plant where one survived. In October she observed that approximately 2/3rds of the carex plantings were present.
Location: exPts 1, 2 and 8
Data/materials collected: Weeds were discarded outside the plot as they were removed.
Find information about Jay's experiment at ~Dropbox\teamEchinacea2019\jayFordham
Find information about the planting locations of the Asclepias viridiflora at ~Dropbox\CGData\Asclepias\plantPlugs2019.csv
Find the two GPS jobs containing the carex locations in ~Dropbox\geospatialDataBackup2019, saved in three formats in temporaryDarwBackups2019, convertedXML2019 and convertedASVandCSV2019. The job names are CAREX_P1_20190801_DARW and CAREX_P1_20191003_DARW.