Greetings from the Field Museum Chicago!
I have solved the mystery of the mini ants seen in Echinacea heads in the common garden. Below is a picture of the specimen. Those tic marks indicate mm and those small, yellow grains are pollen (Echinacea, I presume):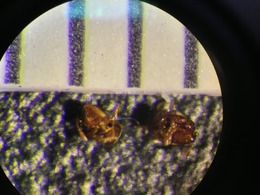 These ants have been identified as… drumroll please…

Photo courtesy of Alex Wild
Brachymyrmex depilis! Well, perhaps. This species is in need of a taxonomic revision as currently any yellow Brachymyrmex in North America are likely to be classified as depilis. This is one of the smallest ants in North America and usually subterranean.