Hi flog,
Wow! These last three weeks passed by super quickly! While the first two weeks were focused on seed cleaning, seed counting, and x-raying, we spent this past week on our independent projects. But that's not to say this week was easy! In the past 5 days, I wrote exactly 900 lines of code in R to generate the figures and perform the analyses.
To get at how current pollen limitation affects Echinacea growth and future fitness, I performed analyses testing differences in plant traits between pollen exclusion, pollen addition, and open pollination treatments. I did not find evidence that pollination treatment affected either growth or fitness, which indicates that current pollen limitation will not benefit Echinacea in the future. This could be because Echinacea is not resource limited or because the cost of seed production is negligible.
Many thanks to the members of Team Echinacea who helped guide me through this process and made working in the lab such a pleasure!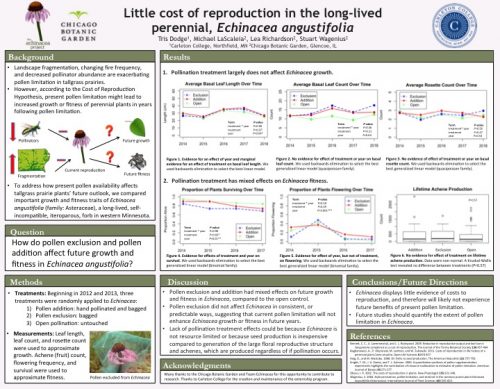 Tris