It's been a day full of giddy excitement for Team Echinacea. Not only was it a team member's birthday, but on our first trip to the remnants we found the first flowering head of the season.
If you look carefully at the picture below you can see the first style on the bottom right.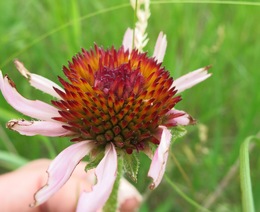 This plant is number 1414, first tagged in 1997 in the KJ remnant. The upper florets on 1414 are not typical in form, and appear to be diseased. Bets are still on for the first flowering head in the experimental plots.
-Claire