Trevor here, reporting on a day of momentous occasions; Nina and I completed step one in each of our projects! After being told, for the third time, that we look related to each other (hence the title), we decided that we had to get focused and finish cleaning—and so we did. I completed cleaning the 89 buds for the liatris species whilst Nina finished completed her 78 buds for the echinacea species; we were very excited! After taking a quick lunch break, we got back on the grind to begin phase two. Nina, being the diligent worker she is, began rechecking her echinacea buds for missed achenes. As for myself, I progressed onto the second species in my study: solidago.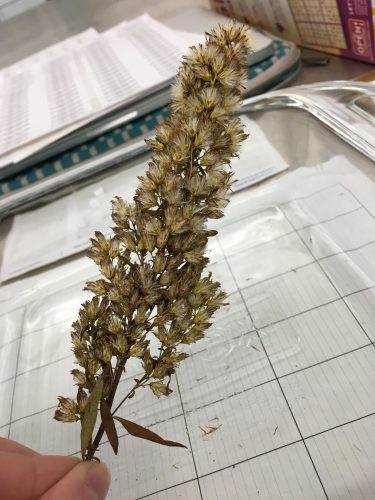 Here is an image of one of the buds from the solidago species I'm working on; isn't it beautiful?! While liatris and solidago are generally similar in biological makeup, they do possess some noticeable differences. First of all, the achenes in solidago are quite tiny (think half the size of a mosquito), which makes them extremely difficult to separate efficiently for future x-raying. Additionally, they have so many achenes that it makes it impossible to effectively pull out all the achenes from the bud. Instead, I get to do a fun shaking method where I shake off achenes into the tray. Just shaking my way to success; I guess.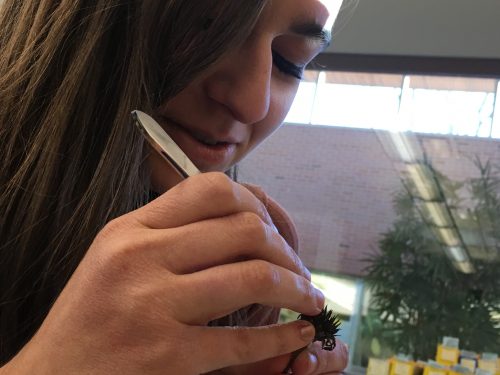 Nina began meticulously rechecking her achenes. As you can see above, she was very focused. She actually invented a fun game where she would tally how many buds were missed by various people that assisted her in cleaning. As is stands now, Lea is in lead with 2 missed, Tracie second with 3 missed, and Nina (who did 60 of them mind you) is third with 4 missed. Max. On some, she even missed none!  Marisol is in fourth with 5 missed, but who knows? She's still  counting! Updates to follow.
Until Next Time,
Trevor