Happy 2014 everyone! Here's the latest news from The Echinacea Project.
Grace and Aaron, two students from Carleton who spent their winter breaks in the lab, finished up their internship on Friday. They did some great work with the E. angustifolia and E. pallida heads we collected from Hegg Lake. If you recall from the summer, Dayvis looked at the flowering phenology and pollinator assemblages of these plants. In short, Grace and Aaron followed up on Dayvis' work by examining seed set (via x-ray AND weigh machine!) of the top, middle, and bottoms of each head. They were interested in determining the likelihood of hybrization occuring naturally between pallida and angustifolia and modeled this likelihood with the Dayvis' phenology data from this summer. They created some beautiful, hand-drawn flowering schedules (shown below) and they're working on finishing a report that we will post soon.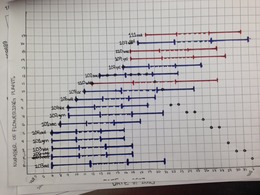 Above: flowering schedule with pallida heads shown is blue and angustifolia shown in red. Below: flowering schedule with seed set of each section of each head written in pencil.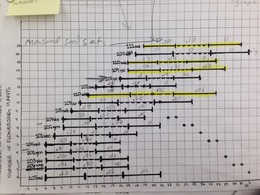 We're now tracking the progress of our 2013 heads with this handy-dandy white board chart. On the left we have all our experiments in the common garden and the number of heads in each experiment. The chart may look mostly empty, but that doesn't mean our volunteers aren't hard at work! We had people come in on Christmas Eve and New Years Eve! What dedication! We will keep you updated as this chart begins to fill up!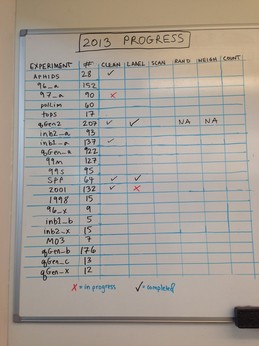 Stay warm!