We finished measuring plants in Jennifer's Phenology plot at Hegg Lake WMA this Friday.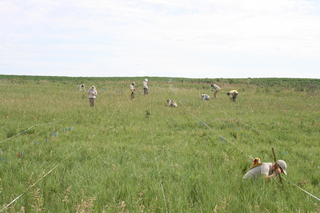 We measured many plants.
We measured about 2700 plants. Eight plants flowered this year. We visited another 1300 locations where we couldn't find a plant (mostly because they had died). Here's a map of the plot with the status of each location (click to see a bigger version)…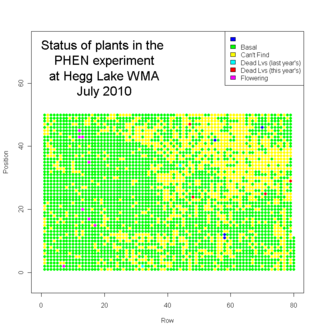 In addition to Echinacea angustifolia, we saw some good prairie plants in the plot, including lead plant (Amorpha canescens), yellow lady-slipper (Cypripedium calceolus), prairie rose (Rosa arkansana), Missouri goldenrod (Solidago missouriensis), silver leaf scurf pea (Psoralea argophylla), and many others.
It was a big job, but we were quite efficient. We laid out 50m tapes on every other row to help guide us. Four of us went out on Wednesday to flag positions 1 and 50 for all rows. That took ~2h. We started flagging positions 10, 20, but that was unnecessary. On Thursday we all went out and measured from 2-4 pm. On Friday we did two shifts: 10 -12 and 2:30 -5.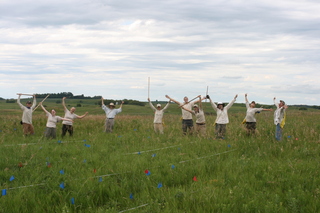 We were happy to be done.
On the way out we removed a weed that we had noticed the day before–spotted knapweed. We were careful not to touch it because it can be a skin irritant. I'd never seen this plant in the study area before.
Heading home.
What a great way to end the week. It was Katie and Laura's last day. They are heading back to the Chicago Botanic Garden to prepare their posters and talks.