Posters, posters, posters. That's what Saturday was all about for Team Echinacea (mostly). Saturday morning Shona, Kelly, and I broke away from poster monotony and headed to Alexandria to check out the farmers market, later ending up in an antique store trying on hats from the 30s.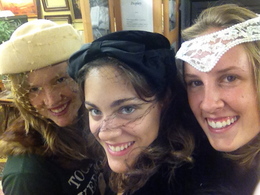 Here's what the rest of the gang was up to on Saturday:
-Maria biked to Hjelm house to clean up her data for R
-Katherine did her aphid experiment
-Andrew headed out of town for the day
-Lydia spent time with her Aunt
By the evening, however, everyone was back at town hall glued to our computer screens until the wee hours of the morning. Midnight banana and zucchini bread made by Kelly and Shona kept our spirits up.