Hello, everyone! If you couldn't tell from the title, I am Sarah Baker. I am a rising Junior at St. Catherine University and an REU intern this summer. I am a biology major with an interest in wildlife and conservation biology. During the academic year, as well as being a student, I work as a teaching assistant for ceramics courses at my school. I will also be working as "animal room technician" this upcoming semester, taking care of organisms used in labs and research for biology related courses.
Anyway, a bit of information about me: I grew up in Golden Valley, Minnesota and spent a lot of time in my childhood and teenage years outdoors. I often went hiking, canoeing, biking, and other types of adventuring outdoors with my family and learned much about nature from those experiences. My father, being a biologist, would often point out various plants and animals to me and identify them, teaching me what they were and interesting facts about them. These excursions fed my interest in wildlife and conservation. In the future, I plan to attend graduate school to study wildlife or conservation biology.
When I'm not doing cool science-y things, I enjoy making pottery, being out in nature, sailing, and hanging with friends. I am also the president of the ceramics club at my school where we host Empty Bowls community service projects to raise money for Minnesota Open Arms.
This summer, my independent project will focus on flowering phenology of various remnants. I will be adding to a data set from 2011 and 2012. My main interest with this project is to see if there are correlations between peak flowering times of the same remnants across multiple years. I look forward to all I will experience this summer!
If you are interesting in learning a bit more about me, check out my webpage on the Echinacea Project website!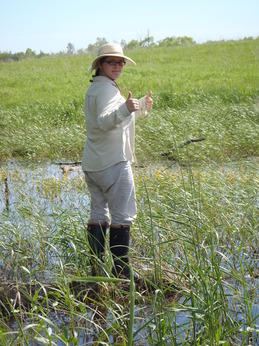 Sarah Baker