My Saturday began with some casual sketching as a way to get more familiar with some of the common pollinators found on E. angustifolia. Fun fact: illustrating correct wing venation is very arduous process.
I then joined everyone else for a team brunch at the local diner. Once all members of Team Echinacea were sufficiently stuffed with pancakes, eggs, hash browns and other belly-expanding foods, 62.5% of Team Echinacea set sail for Fargo to attend the 37th Scandinavian Hjemkomst/ Annual Midwest Viking Festival! There were battle demonstrations, informative exhibits, and plenty of Scandinavian crafts, foods, and performers. A team favorite was the Hopperstad Stave Church Replica that Cam sketched with the precision of a seasoned Viking-aficionado (Figure 19.F).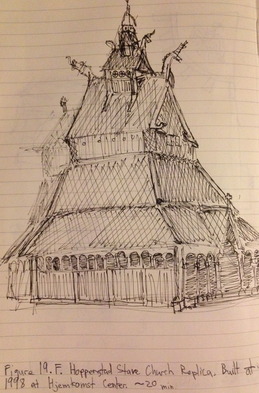 The day ended was some delicious Fettuccini Alfredo prepared by Keaton and we all fell asleep full of both food and new knowledge!
Skal! (Cheers in Norwegian from the Old Norse word for cup)
-Maureen Page