We delayed our fieldwork for a few minutes this morning because of scattered showers. Who knew we should have delayed for a few more minutes because of Solar X-Ray Flux?
The National Weather Service's weather radar indicated that the rain (aka atmospheric H2O flux) was mostly south of us, so we knew it would be a short delay. However, we should have checked NOAA's space weather forecast…
When we arrived at the site, the atmospheric weather was OK, but the space weather was poor and our gps machine, Sulu (a Topcon GRS1), had a difficult time getting oriented. It may have been groggy because of the burst of solar X-Ray Flux. Here is the graph of Solar x-ray Flux from NOAA: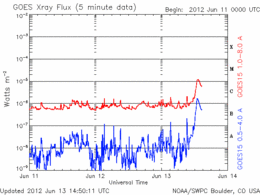 Just our luck! Next time we'll check our local weather forecast and the space weather forecast!