Spring is a hectic time for most biota; interns are no exception.
The lab currently has two undergraduate interns working on separate projects. Jill Pastick (Lakeforest College) is studying hybridization between native Echinacea angustifolia and non-native Echinacea pallida in Minnesota. This project began with Nicholas Goldsmith, who performed a hybrid crossing experiment in the summer of 2011 and observing pollination success based on style persistence. Shona Sanford continued his project by performing a second crossing experiment in the summer of 2012 and weighing achenes to determine whether or not they contained seeds. Jill is continuing the project by the germinating the achenes from Shona's study to assess their survival and growth. She is currently photographing the seedlings to take detailed measurements on size and color.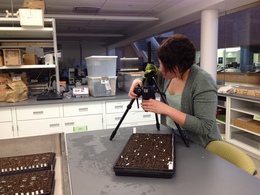 Our other intern, Gia Hallaman (Northwestern), returned to the lab this week after spending her spring break volunteering on an organic farm in Wisconsin. She is in the process of curating and identifying ants collected by Jill Gall in the summer of 2012. Jill's collection covered 6 prairie remnants throughout Douglas County Minnesota. So far, Gia has identified a subset of ants from all 6 sites. For her project, she is going to focus her effort on the Staffenson prairie preserve in order to compare the ant community in the burned and unburned units.