Today marks the halfway point for the summer. Five weeks down, five to go. We've accomplished a lot and much more remains. After a long afternoon of measuring plants, we had some watermelon and carbonated beverages to cool off, mark the 1/2way, and wish the Chicagoans well.
Three of our team members are leaving tomorrow for Chicago (Jennifer, Lani & Denise). They will keep us posted about the analysis of the bee-tracking field data and how it relates to their pollen flow study.
Here's a photo of us on the porch of the Hjelm house today, just after lunch.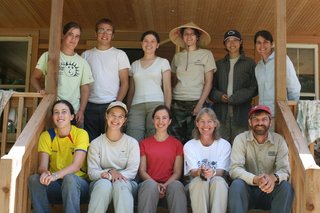 Lecia, Ben, Megan, Christine, Denise & Gretel
Julie, Jennifer, Lani. Amy & Stuart.