Do You Know What Kind of Insect This Is?
Team Echinacea sure didn't until some crafty web searching informed us that these mysterious holed creatures are the larvae of Tiger Beetles. A frustrating day a few weeks ago was spent trying to figure out what lived in these 1 centimeter in diameter holes. Careful observation seemed to disprove what we had always assumed before; that they belong to the solitary bees that pollinate the Common Garden. You know what they say about when you assume…
What you can see is the underside of its head, as is visible in the diagram below.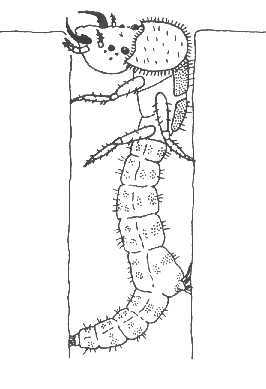 (Diagram from Westminster College)
The larva at the top is sitting and waiting for something edible to walk by before it attacks. Apparently the bottom one confused the nearby rock with actual prey. This footage was acquired in the common garden with the assistance of excess equipment from Team Video.
Had that rock actually been an ant the larva would pull it to the bottom of its hole (which can be up to 1 meter long) and devour it. Later it will fling the indigestible exoskeleton out. Additional footage captured the larvae flinging dirt out while expanding its home. Simply more information about the inhabitants of the Common Garden.