Now that I've gotten a new toy, I've gotten several more pictures. Not all of them are with this fun lens though.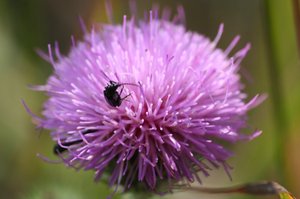 Let's start with the sex. Tittilating thorn hoppers! Mating monarchs! Lusty Lepidopterans!
Then there are the critters I don't recognize. This looks to me like some beetle larva (but I really have no idea). Shiny beetle on some thistle.
Jameson has just informed me that these are thorn hopper larva. Around the Andes Tower property, we came across a spider having a meal of a dragonfly. Don't forget tiger beetles.
As for our plant portaits, I've got some Asclepias speciosa, showy milkweed. Allium has some pretty neat flowers. Like Earl Grey tea? Then you've had some of the tasty wild bergamot, Monarda fistulosa. The common garden has quite a bit of Solidago rigida, or stiff goldenrod.