Today was a quiet Sunday in K-town. While I indulgently slept in this morning, here's what was going on in the field:
-Katherine, Shona, and Kelly surveyed flowering Echinacea in the common garden
-Andrew successfully observed 5 pollinators of Echinacea today, a much more productive session than some of his sessions earlier in the week
-Lydia crossed some Echinacea and painted floret bracts at Around Landfill and East Elk Lake Road, two of the prairie remnants
-Kelly visited all of her prairie remnants today, observing and recording the various stages of flowering Echinacea in each
-Maria worked with her Dicanthelium at Hegg Lake
Other than fieldwork, a few of us went out to Alexandria yesterday to explore the downtown, visit Big Ole, and nab some Cherry Berry, our favorite self-serve frozen yogurt bar. We also discovered that if you buy a t-shirt and wear it to Cherry Berry on Tuesdays, you can get free frozen yogurt! Yum!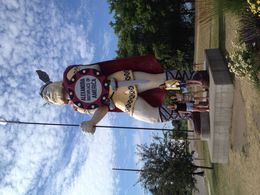 Tomorrow, the gang is heading out to Pembina Trail Preserve (between Fertile and Crookston, MN) to count Western prairie fringed orchids (Platanthera praeclara) in wet prairie. Photos to come!
(Again, I can't figure out why my photos always flip sideways when I upload them or how to fix it)