Monitoring reproductive fitness in the remnant populations is a staple of Team Echinacea's summer activities. Understanding the reproductive success of plants in remnant populations provides insight to a vital demographic rate contributing to the persistence (or decline) of remnant populations in fragmented environments.
In summer 2019, we harvested 40 seedheads to study patterns of reproductive fitness in 8 remnant Echinacea populations (ALF, EELR, KJ, NWLF, GC, NGC, SGC, NNWLF) (the same populations used where I studied phenology and gene flow). I randomly selected 1/3 of flowering heads at each remnant to harvest. In addition, I collected all seedheads from especially small or isolated remnants (specifically, GC, KJ, and the cluster of plants just north of EELR).
In early January, I dissected the seedheads. I extracted the achenes by row so that I will be able to observe temporal variation in seed set within heads. Ideally, next I will x-ray the achenes and assess seed set by observing the proportion of achenes that contain embryos. However, the x-ray machine at the Chicago Botanic Garden is currently out of service, so instead I may need to weigh or germinate the achenes to see if viable embryos are inside.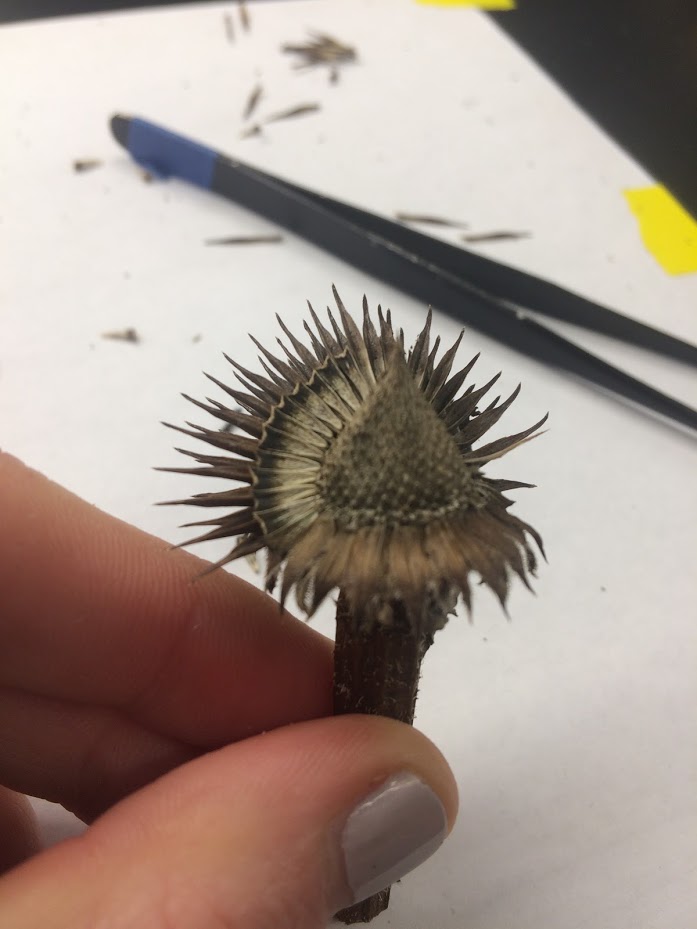 Start year: 1996
Location: Roadsides, railroad rights of way, and nature preserves in and around Solem Township, MN
Overlaps with: Phenology in the Remnants, Gene Flow in Remnants
Products: We will compile seed set data from 2019 into a dataset with seed set data from previous years, which is located here: https://echinaceaproject.org/datasets/seedset-in-remnants/.
You can read more about reproductive fitness in remnants, as well as links to prior flog entries mentioning the experiment, on the background page for this experiment.