In 2022, Team Echinacea collected an additional summer of data for the Pollinators on Roadsides project after receiving funding through the Minnesota Environment and Natural Resources Trust Fund (ENRTF). Pollinator populations are declining worldwide, and pollinator habitat in western Minnesota has diminished over the years, but it is unclear whether the native bee community is changing as well. The Pollinators on Roadsides project, also known as the Yellow Pan Trap (YPT) study, is monitoring how native bee diversity and abundance have changed from 2004-2022 and investigating whether the amount of agricultural land and grassland correspond to the nearby bee community.
In summer 2022, Team Echinacea installed pan traps at 39 of the 40 locations that were used in previous years. The traps were placed along roadsides in Solem Township, and Geena Zebrasky also surveyed the plant diversity surrounding each trap. Geena and Alex set out the traps 7 times during the summer, once per week starting on July 7th and ending on August 17th. We filled the yellow bowls with soapy water each morning starting at ~8:00 am and collected bees from the traps in the afternoon starting at ~4:00 pm. We strained the bees through a sieve and stored them in vials filled with 70% ethanol. Over the summer, we collected seven coolers full of vials, which are now stored in the freezer in Illinois.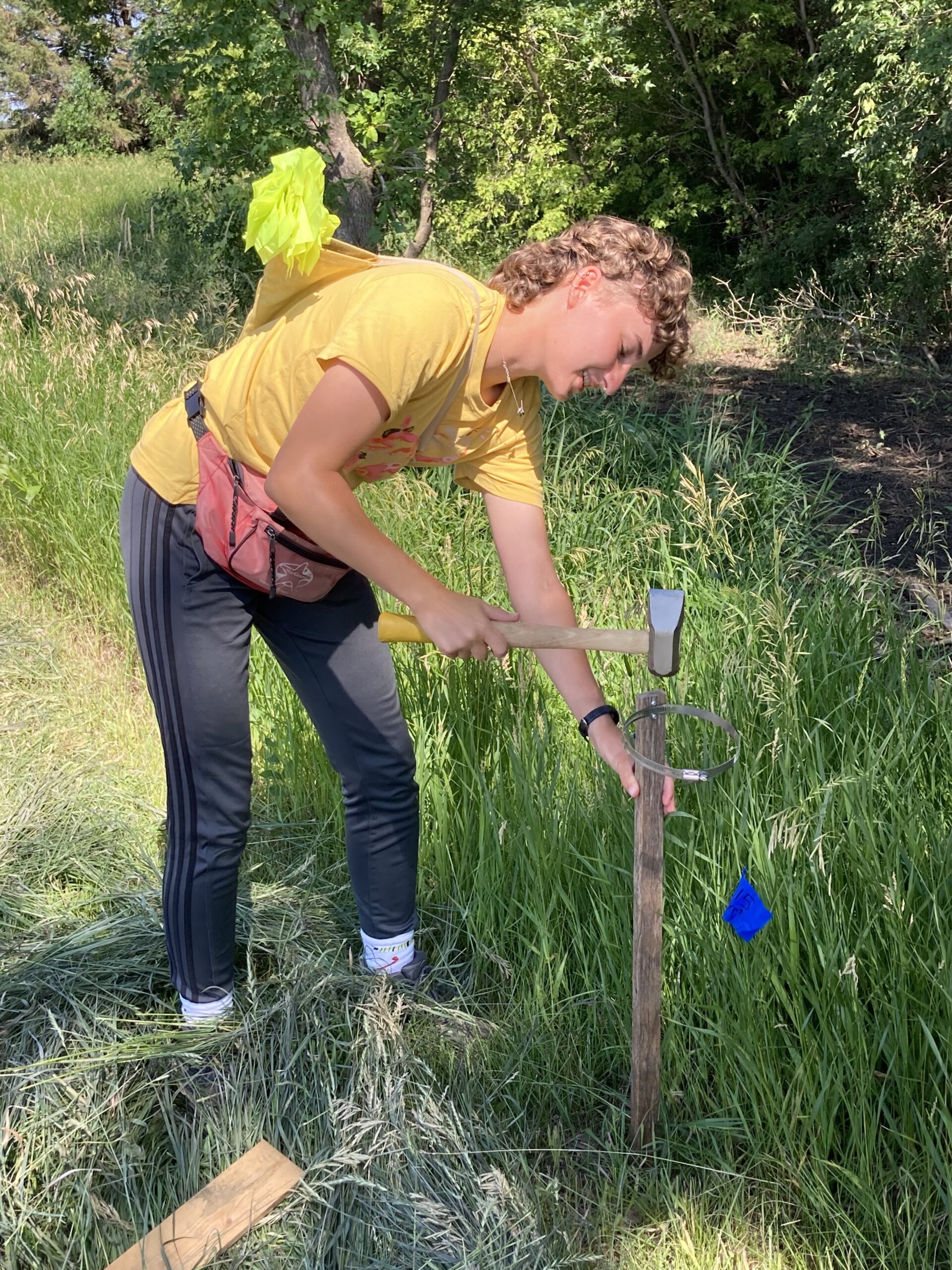 At the lab, volunteer Mike Humphrey has been pinning the bees that we collected during the summer. So far, Mike has emptied three of the seven coolers, and he has pinned 420 specimens from 90 vials. Each specimen is assigned a specimen id number (SPID), which started with SPID 20001 this year. In previous years, we glued tiny bees to point mounts, but this year we are gluing them directly to a #2 pin based on a recommendation by Zach Portman, the bee taxonomist at the University of Minnesota.
Last winter, we sent Zach the insects that had been collected in 2004, 2017, 2018, and 2019, and he identified the bees to species. Over the 4 years, we caught 1,901 bees from 76 different species!
The next steps are to finish pinning the bees from summer 2022, add descriptive specimen labels, and send the bees to Zach for identification. Mia and Alex are working on a bee community analysis and a landscape analysis.
Start year: 2004, rebooted in 2017
Location: Roadsides and ditches around Solem Township, Minnesota. GPS coordinates for each trap are located here: ~Dropbox\teamEchinacea2022\YPTsummer2022\yptTrapLocations2022.csv
Overlaps with: Ground nesting bees
Data collected: All YPT data can be found in ~Dropbox\ypt2004in2017

Pinning datasheets are located here: ~Dropbox\ypt2004in2017\YPT2022
Zach's species identifications are located here: ~Dropbox\ypt2004in2017\yptDataAnalysis2022\speciesIdDataEntryBySpidVerified.csv

Field datasheets from summer 2022 are located here: ~Dropbox\ypt2004in2017\YPTsummer2022

Specimens collected: 

Bees collected in summer 2022 were stored 7 coolers of vials. Mike has pinned bees from coolers 1-3, and these specimens are labeled with SPIDs and stored in a case in the lab. Cooler 4 is in the freezer at CBG, and Stuart has coolers 5-7.
Zach Portman identified all specimens from 2004-2019, and the specimens are stored in eight cases at the CBG lab.

Team members involved with this project: Geena Zebrasky (2022), Mia Stevens (2020-2023), Alex Carroll (2021-2023), Erin Eichenberger (2019-2020), Anna Stehlik (2020), Shea Issendorf (2019), Mike Humphrey (2018-2021), John Van Kampen (2018-2019), Kristen Manion (2017-2018), Evan Jackson (2018), Alex Hajek (2017), and Steph Pimm Lyon (2004)
Products: Mia and Alex presented preliminary results at the Midwest Ecology and Evolution Conference (MEEC) and at The Prairie Enthusiasts (TPE) conference in spring 2022.
Funding for this project was provided by the Minnesota Environment and Natural Resources
Trust Fund as recommended by the Legislative-Citizen Commission on Minnesota Resources
(LCCMR). The Trust Fund is a permanent fund constitutionally established by the citizens of Minnesota to assist in the protection, conservation, preservation, and enhancement of the state's air, water, land, fish, wildlife, and other natural resources. Currently 40% of net Minnesota State Lottery proceeds are dedicated to growing the Trust Fund and ensuring future benefits for Minnesota's environment and natural resources.
You can read more information about the pollinators on roadsides project here.