Once again, a hearty hello to readers on the flog-o-sphere!
As with many days this week, the morning started off with phenology. Now that more than half of the plants in the common garden have finished flowering, it can be accomplished in a little over an hour. The Sara(h)s measured plants in the 99 garden while Ilse, Lydia, Gretel, and Marie worked on crossing. Dayvis lurked in the basement of the Hjelm house, alone with his collection of pollinators and an insect identification book. Kory visited Hegg Lake and harvested his first Echinacea head for his experiment! At lunch, Marie practiced giving her poster presentation to the group.
After eating, Sara Z, Gretel, Marie, and Ilse stayed at the Hjelm house to finish crossing and measuring. The rest of the group traveled to East Riley for seedling re-finds. In high spirits after finding (although most often not finding) a seedling, Team Echincea adorned themselves with natural hitchhiker jewelry.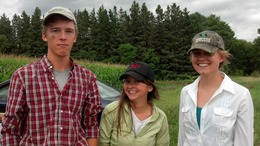 Crew members returned home in a timely fashion to enjoy some homemade pad thai prepared by Sara Z. Thai food is the only thing Dayvis has craved more than a machete all summer long – needless to say, he was sated. When Sara Z first arrived at the town hall, she was under the misguided impression that crew members play board games every night after work; the fact that we don't has been a constant cause for consternation. At her dogged insistence, several of us joined her for a game of Bananagrams and Apples to Apples.
Have a great weekend!