Today we started the week off strong by pulling birdsfoot trefoil along Tower Road since it was wet from the rain last night. Reports differ based upon location, but Team Echinacea members were able to deduce that last night there was lightning, thunder, rain, and hail in west central Minnesota. Once we pulled everything we could find, the team split up for phenology. Wesley, Kennedy, Allie, and I were assigned the NorthWest loop, aka landfill and surrounding sites. Allie took the GPS to shoot newly found plants at the smaller sites while the rest of us went to landfill. My favorite part about this morning was that, unlike last Monday, the hill did not smell! Once we finished at landfill, Wesley, Kennedy, and I met up with Allie to finish the remaining sites. Notable stories include Wesley meeting some biting ants and all three of us looking amazing in our blaze orange vests. After phenology we had some extra time before lunch so I was in a group helping John sort flags in g3, the flag bin is looking better every day!
After a quick (yet delicious) lunch the crew headed out to measure P2. We grabbed our visors, flags, candy canes, and measuring sticks and tapes. Once we got to the field we ran the measuring tape down the field and got to work. Allie and I were partners and managed not to fall into any holes while working, but unfortunately I learned the lesson that if I yell at the visor when it doesn't work, it will not listen to me. Once I talked to it nicely, it seemed to work fine. As we worked down the field, we would move the measuring tape with us. This involved everyone ducking while three or four people would lift it. It made life more interesting when none of us were allowed to stand up for ten seconds! While packing up supplies, Laura and Maris perched on their rock and managed to produce music from a piece of grass, allowing us to relax after a hot afternoon.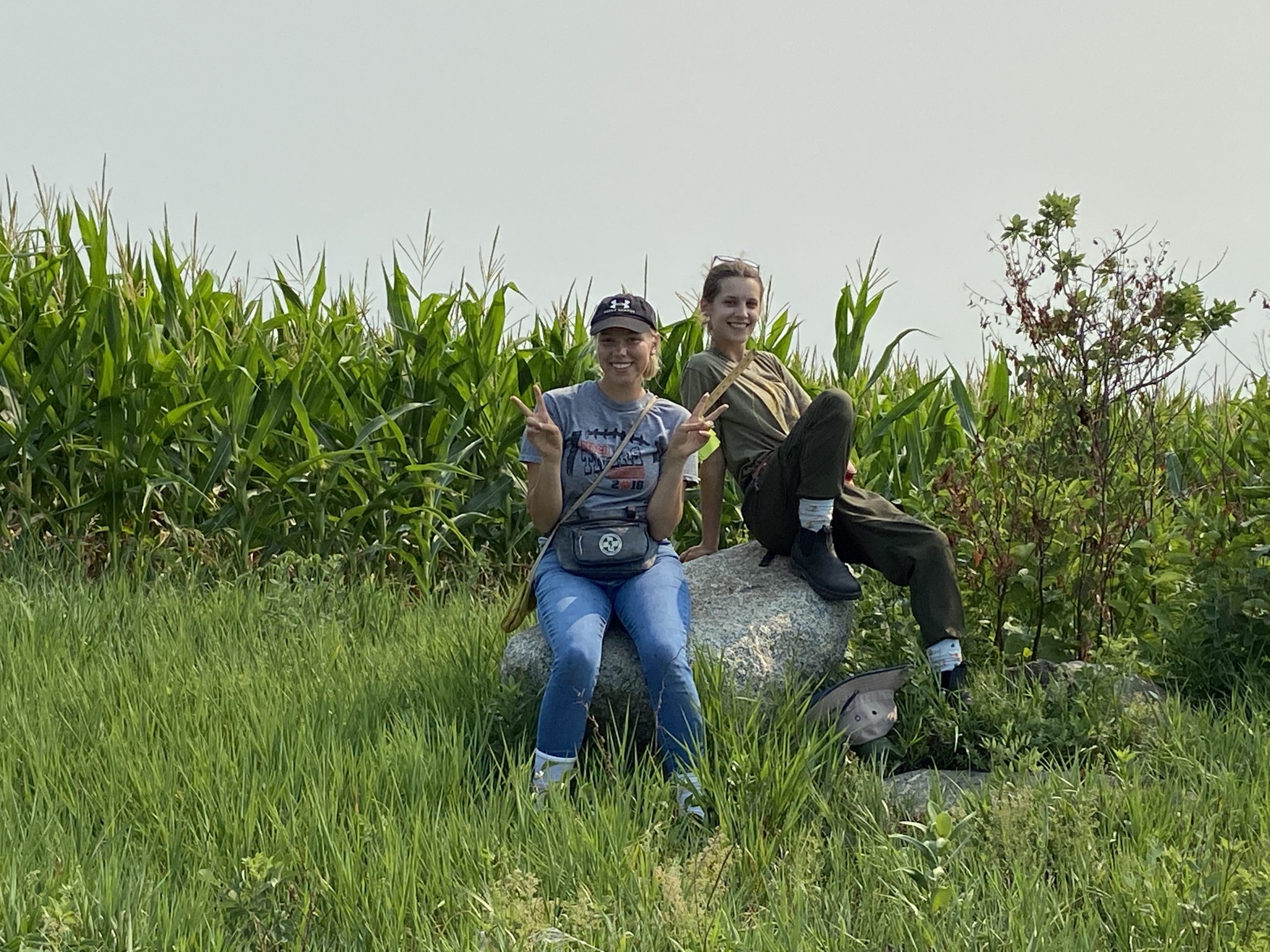 To add to the excitement of the day, today the P2 crew got to see the road grader drive by and make the road look nice for us. Please enjoy the above picture of the view of the road!
In order to minimize the amount of cars parking on the side of roads and driving, we filled two cars with people. This meant that one person would be riding in the middle of the backseat of Mia's car. This also meant that Mia would get to look at this person's face every time she looked in the rearview mirror. On the way out this person was Wesley, meaning it was not a rearview mirror, but instead, as Wesley liked to call it, a "Wesley-view mirror." On the way back I ended up in the middle seat, and Mia made it clear as to whose face she liked to look at more (mine), and who had the best face in the backseat (me). The rest of the car ride consisted of talking about food and rocking out to Taylor Swift, as well as admiring the view of Minnesota's fields. We finished out our day by doing our chores and waving goodbye to everyone!