This week we began gearing up for staked demo, where we use Darwin to search locations in the remnants where mature Echinacea have been found in the past. The team has tackled lots of flowering demo this summer, but now it's time to take on new challenges like no tag no pl and equivloc records.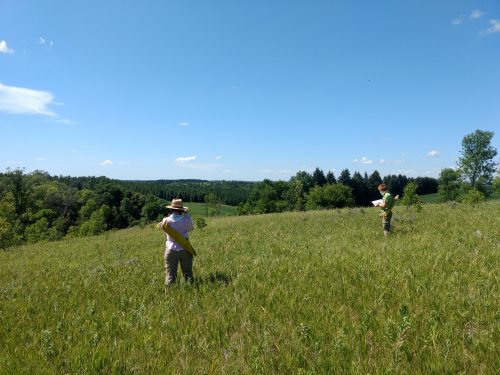 Emma and I were challenged in a different way when we found this monstrosity of a plant at South of Golf Course. It's newly flowering this year, though we kind of wish it wasn't, since its bushy leaves and rogue "armpit tooth" florets are uncomfortable to behold. It seems to have a cousin at Loeffler's Corner with a similarly demented growth habit.
After all the lake excitement on Friday afternoon, we had a comparatively quiet Saturday. Gooseberry is in town, so Allie and I took her for a walk to the park where she drank puddles and sniffed everything within reach. In return, Goose kept me company as I worked on reconciling demap.
In the evening we enjoyed takeout from Mi Mexico and a rousing discussion of what the world would be like if society was reorganized into five sects, each with their own physical limitations, like having clams for hands or being perpetually confined to an Olive Garden. Goose did not contribute much to the discussion but did partake in some heavy belly rubbing action.