Hi everyone,
Maria here at CBG. On Tuesday, I came back from Thanksgiving break to find that one of the Dichanthelium plants in the growth chamber was flowering like crazy!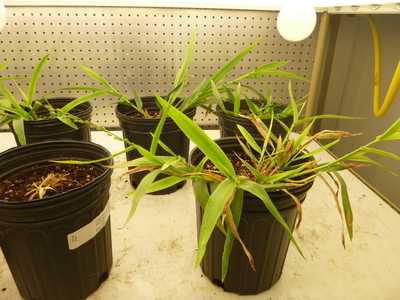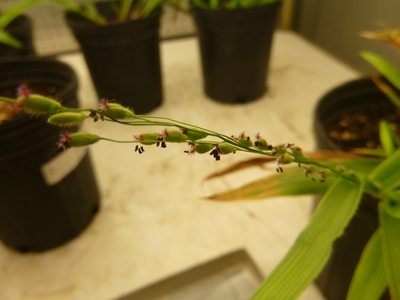 So many flowers! It was also interesting that the plant that flowered looked more stressed (yellow leaves) than some of the other plants.
Today, I collected some pollen (shook the spikelets) on glass slides, stained them with 0.1% toluidine blue, and looked at them under the microscope. It was amazing to see the stained pollen, and how different the viable and inviable pollen looked! I wish I had pictures. I will be learning how to take digital microscopic images (hopefully tomorrow?). So hopefully I'll be able to stain pollen from all flowers tomorrow, take pictures of the stains, and count pollen to get a sense of levels of viability in Dichanthelium pollen.