What a beautiful 4th of July!
This morning was jammed packed with grass. Team Echinacea did another round of searching for stipa followed by an assessment of dichanthelium in the '99 south garden. Jennifer Ison and her father came and helped out with both these surveys and will be around for a couple weeks. In other news: Sara Z found a massive (nearly 1m) and intact snake skin which she kindly bestowed upon an excited Sarah B.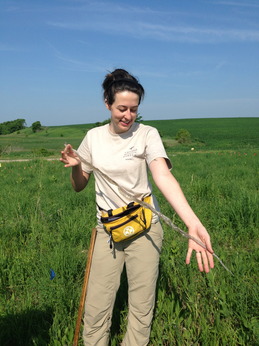 After all the grass searching we all went our separate ways (or rather back to the town hall) to put together our various potluck fixings and then met up with Stuart and his family at Elk Lake where we feasted upon a variety of delicious food. I definitely set a personal record with the number of deviled eggs consumed in one afternoon, and I don't think I was the only one uncomfortably full. Dayvis entertained us with his Bandola while we digested and then many of us went out for canoe rides. After struggling a bit with steering the canoe properly, Dayvis, Hattie, and I smoked the other canoe in a "race" back to shore. After more swimming, snacking, and socializing it was time to head back and rest up for watching fireworks this evening. Happy 4th of July everyone!