Hello again faithful flog followers! I'm here to update on another week for Team Echinacea.
We've finished dissecting the qGen2 heads! This was a big job and thanks to a lot of help from Gretel and many dissection full days, we were able to power through and get all the achenes out and ready for their next step: x-raying. Ilse and I will be driving down to Chicago in the next week or so to x-ray all the achenes before they are planted. The x-ray will be useful in determining whether achenes are empty or full and will (hopefully) be faster and more reliable than weighing achenes.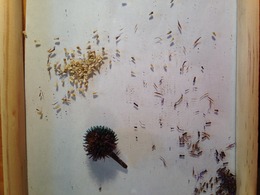 Harvesting is nearly complete (~15 more heads in CG1) and we've collected many more bags of bouteloua and little blue stem. The new common garden is still in the progress of being fully lopped and cleared of small trees and we're all really hoping for some good burn-friendly weather in the next few weeks as it would make planting a lot smoother. This week we also went out to six remnant sites and collected seeds from Dalea purpurpea plants. We GPSed these plants with the hope that we can plant their seeds in the new common garden and begin what may become "The Dalea Project."
It's also gotten a bit colder in Kensington and we've had a few days of thunderstorms and rain showers. A tree got struck by lightning out on Tower Road (around 100m from Hjelm House) and the shock/sound frightened all of us to pieces. That's the closest I've ever been to lightning striking! The cooler weather also means we've started using the wood burning stove in the basement of Hjelm House on a more regular basis. On Friday Ilse and I decided it might be fun to try and cook some eggs on top of the stove and it worked out deliciously!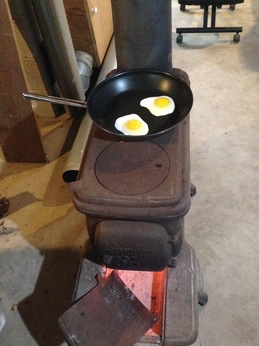 Here's to another pleasant and productive week as we wrap up the field season!
Lydia