Yesterday, members of Team Echinacea went on a field trip to the Pembina Trail Preserve, a huge reserve of land owned by the Nature Conservancy between Fertile and Crookston, MN. Gretel has been working on a project there looking at the effects of different management techniques on the western prairie fringed orchid (Platanthera praeclara) for many years, and we helped out by counting and mapping flowering orchids in two experimental plots.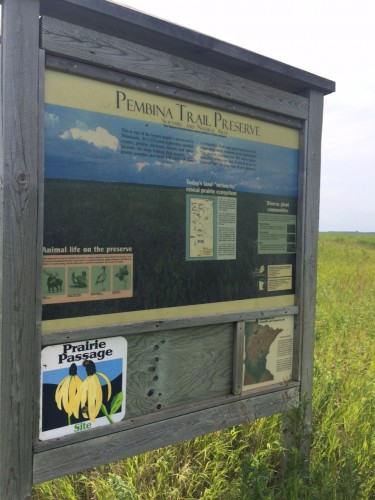 We got an early start, leaving from the Hjelm house at 6 AM. Everyone fell asleep on the drive up except for Gretel and Lea, who were driving. It was already 80 degrees when we got to Fertile around 9 AM. It was fun to be in a different type of prairie: the Pembina Trail Preserve is located in the Red River Valley so the landscape is very flat. It was much wetter than the prairies we study—we saw species like mountain mint, sedges, sandhill cranes, and snipes, which thrive in the moist environment.
We counted orchids in one plot in the morning, working systematically in teams: two people searched for orchids and counted the number of flowers on each plant, one person kept track of where we were on the grid by finding wooden posts with coordinates, and one person followed behind with a GPS unit, shooting points at each plant. In the first plot, we found 301 orchids. This is a lot more flowering orchids than there have been the past couple of years; two years ago there weren't any!
Next, we ate lunch in the grass before walking a mile to the second plot. Little did we know that we were in for a very full afternoon of orchid counting! True quotes from day include: "Wow there are so many orchids", "Sulu [the GPS unit] can't find a connection, space weather must be bad," "this post doesn't have coordinates on it," "I can't find any posts," "I can't believe how many orchids there are," "I might not like orchids anymore," and (in the field at 5PM) "the ice cream shop in Fertile is closing."
But all complaining aside, we felt very accomplished having found 537 more orchids, bringing our daily total to 838. Wow! This is a lot more than we were expecting. Just based on impressions from yesterday, it seemed like the haying management treatment—when an area is mowed at the end of the flowering season and the grass collected for hay—promoted flowering. Maybe the disturbance helps to distribute the orchid seeds.
We all felt refreshed after Gretel bought us F'real milkshakes and Gatorade at the gas station in Fertile. Then we drove to the pelican-themed metropolis of Pelican Rapids and ate dinner at Taqueria Escobar, a Mexican family restaurant. Quotes from dinner include: "This is a lot of food," "Yum," "You know, I actually do like orchids," and "Today turned out to be a really nice day."
In August, Gretel will go back to Pembina in August to see how many of the orchids produce seeds. Stay tuned for updates!