Two weekends ago, Alex and I ventured into the heart of downtown to witness the annual dyeing of the Chicago River! I knew of this tradition prior to being in Chicago, so I was excited to witness the event in person!
The origin of the dyeing began in 1955 when Chicago mayor Richard J. Daley took office and began efforts to clean up sewage leaks in the river. A green dye was implemented to determine the source of the waste. Later, Daley proposed using the same dye to celebrate St. Patrick's Day; however, the ambitious mayor wanted to try and dye parts of Lake Michigan green instead of the river! Eventually, Daley was persuaded by friend and business manager of the Chicago Plumbers Union to stick to the river for the holiday festivities. In 1962, Chicago city workers added almost 100 pounds of an oil-based dye to the river, beginning an annual tradition.
With festivities beginning at 10 am, Alex and I arrived early in the city and grabbed some breakfast. We made our way to the river around 9 am, and all the surrounding was packed! Luckily, we found a clear view tucked behind an Apple amphitheater where a presentation about the latest Apple technology was being given prior to the dyeing.
Every year, members of the Chicago Journeymen Plumbers Local Union 130 change the river to a bright, emerald green. These days, the dye used is a top-secret vegetable-based formula supposedly safe for the environment. We were surprised that the dye is actually a bright orangeish red powder! One boat releases the dye while a few other boats navigate the river and mix the dye.
Following the river dyeing is the annual St. Patricks' Day parade. We saw many kilts, bagpipes, and even a marching band from Minnesota!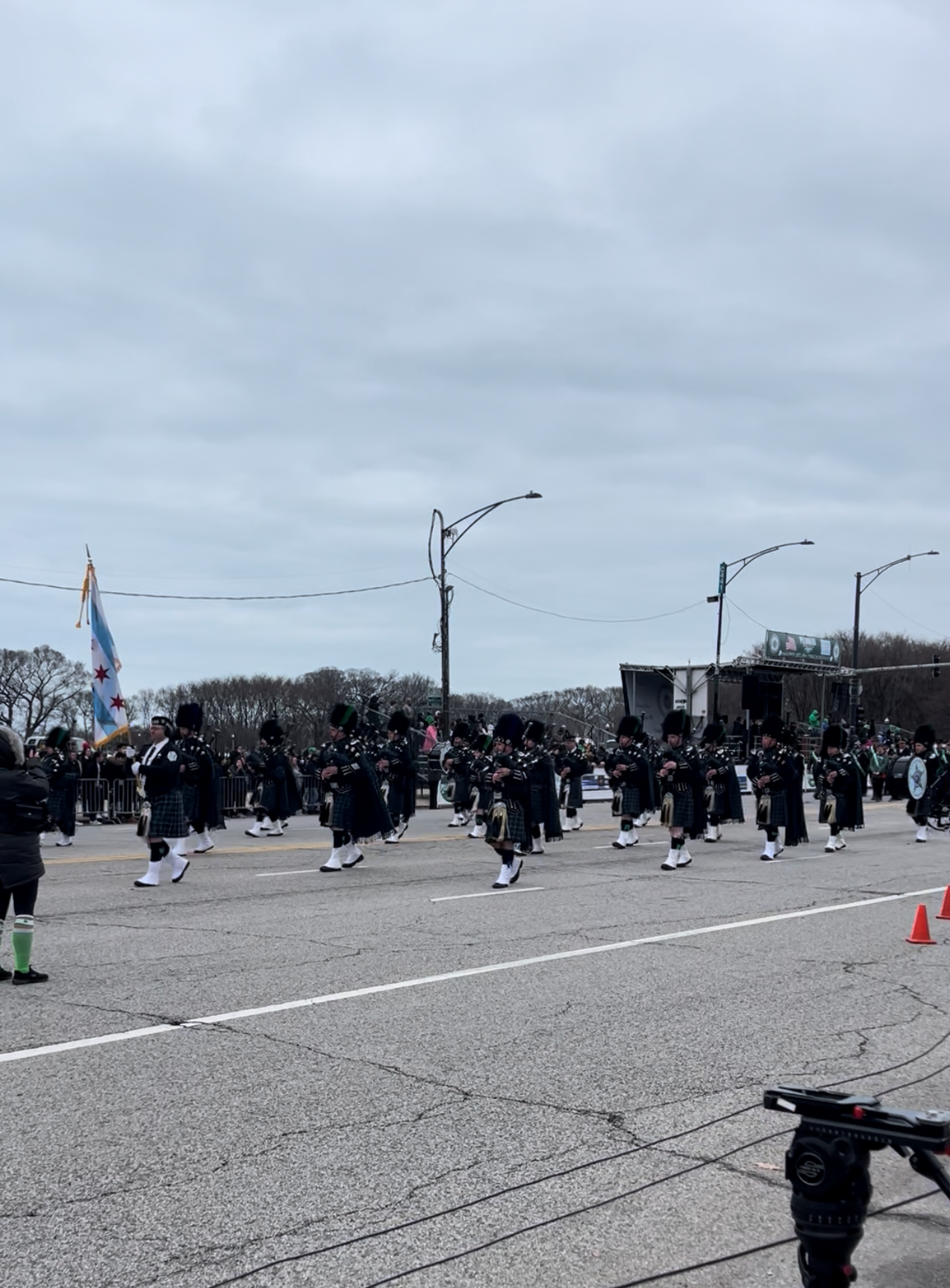 After a tiring day of St. Patrick's Day festivities, we stopped to get some deep dish pizza.
The emerald green color only lasts in its brightest state for a few hours. However, I returned to the river this past weekend and hints of green still lingered!