It's finally beginning to feel like spring here at the Chicago Botanic Garden and with the change in seasons, we've got some new projects in the lab.
All those E. pallida and E. angustifolia seeds I was weighing a couple weeks ago have been germinated and I'm in the process of transferring the sprouts to plug trays. The achenes first went through a two week cold-stratification, pre-germination treatment. I kept the achenes in petri dishes, evenly spread on blotter paper and put them in the refrigerator (4 degrees C), making sure to keep them well moistened throughout this time period.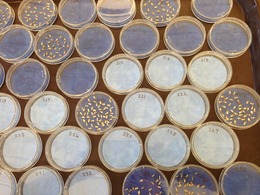 After two weeks I transferred the achenes to the growth chamber where it was significantly warmer (25 degrees C) and put them close to the light.
Sprouts are ready once their radicle emerges 1 mm. Nearly 20% of the seeds germinated within 24 hours of being transferred to the growth chamber, and even more germinated the following day.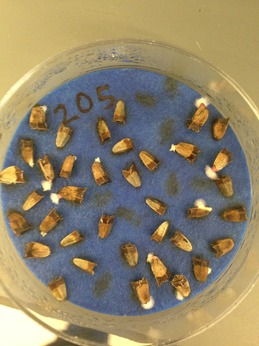 We place sprouts in plug trays were they'll grow up for the next 5-7 weeks before being transplanted in the ground. And man oh man do they grow up fast! Can you spot the sprouts in this section of the plug tay?