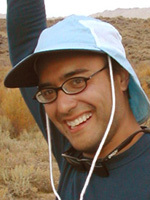 Hello everyone, this is Andy McCall reporting from the farmhouse in Douglas Co. Minnesota.
I'm currently an assistant professor of biology at Denison University, a small liberal arts college (a SLAC!) in Granville, Ohio. I, like many people on the project, graduated from Carleton College , where I first learned to appreciate and love the prairie landscape under the tutelage of Mark Mckone .
Needless to say, I love teaching and learning and have wanted to be a professor since my time at Carleton. After Carleton, I studied alpine flies in New Zealand while earning my Master's degree at the University of Canterbury, leafcutter ants in Costa Rica, and wild radishes in California.
I received my doctorate in population biology from UC-Davis in 2006 with Rick Karban and spent some time in Ruth Shaw's lab at the University of Minnesota last summer, thinking about inbreeding, flowers, and insects — a few of my favorite things! I met Ruth when she came to UC-Davis for a week as a workshop speaker in the Center for Population Biology and we immediately hit it off because we both have done work on the lovely annual plant, Nemophila menziesii . She introduced me to Stuart and the Echinacea project, and the rest is history!
Ruth, Stuart, and I were lucky enough to receive funding through the National Science Foundation to support our work on pollination and seed predation this summer, and I have received generous funds from Denison and the Battelle Foundation to support the students I brought from Denison this year: Josh Drizin, Jameson Pfeil, and Colin Venner. I'm psyched to be part of the project as I am certain that we are learning brand-new things about both Echinacea biology and prairie restoration.