The small town of Kensington received five new adorable puppies last week. After some sleuthing and chatting with the friendly locals, team Echinacea received the chance for some much needed puppy playtime.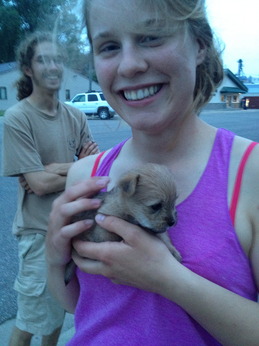 But what's more exciting than puppies? Proposals and updated procedures!
Pollinator Efficiency Proposal 2014 .doc
Pollinator Efficiency Procedure.doc
Attached to this post you will find team pollinator's original proposal as well as an updated procedure and an updated datasheet. The past three weeks have flown by and we have already conducted observations on 175 heads! This means that we are only 25 heads short of our goal just in time for the end of flowering. It is also amazing how much we have learned and how much we have had to change our procedure. I hope that someone will pick up this project next summer and this updated information will help them to avoid some of the problems we've encountered.
In other exciting news, tonight I cooked Ratatouille for the team. Thank you Gretel and the Wagenius garden for the delicious basil!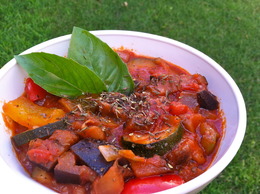 My favorite French dish + my favorite people = the perfect end to a relaxing Sunday.