We finished searching for seedlings at the last site (Staffanson Prairie Preserve) on Monday. All the datasheets & maps (163 pages) are now organized in a 3-ring binder.
Here are a few highlights:
We found total of …
> 22+1+5+1+8+2+24+4+13+0+5+7+1+0
[1] 93
… ninety-three seedlings at fourteen sites!
In August we'll go back and check the fate of every one of those seedlings. I hope we can find them all!

Mimi, Amanda, Greg, Allegra, Daniel, Caroline, and Gretel
looking for seedlings on the scraped roadside at Riley's site.
(They didn't find any here.)

Two possible Echinacea seedlings (not counted above) were noted. We should go back to check their identity within the next week. At site NWLF we left a pin flag at focal plant #13073. At site ERI the possible Echinacea seedling was at R102 (see page 97). Help me remember to check these!
We found about 500 other Echinacea plants within the circles, mostly juvenile plants and some adults (flowering and not).
> 16+16+25+131+63+33+73+24+46+5+16+46+6+11
[1] 511
The roadsides at sites ER and ERI were scraped. In the area that was scraped, all the tags are gone. We did see many little Echinacea leaves peeking through the gravel, but no seedlings. In some areas the scraping was deeper and some roots of old plants were pulled out. I collected one pulled root from the S side of the road on the W half of RI; I couldn't tell from where it was yanked.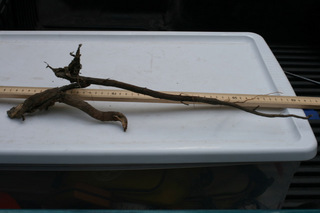 The root was huge!
With our very precise maps of plants from previous years, we will be able to identify which plants are gone and which persist. It will be a challenge though. In some dense areas we may not be able to figure it out. Stay tuned, we'll bring the detailed maps and try to figure it all out in August, after peak flowering.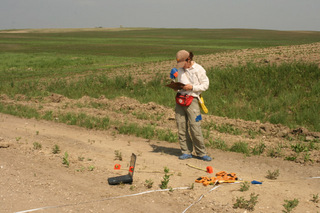 Gretel determining the identity of individual Echinacea plants
at the scraped roadside at Riley's.
The scraped gravel was piled in the ditches. Some plants in the ditches were buried and I expect that many of them will die. There will probably be a lot of weeds in and around those piles for the next few years (until the perennials take over again).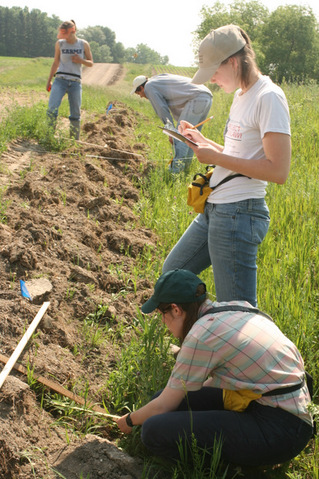 Two images (above & below) of the piles of gravel deposited
in the ditch on the S side of the road at Riley's.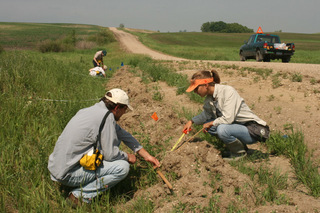 Another highlight (no photos though):
It was a pleasure to visit Staffanson. Gretel and I mapped the focal locations on Sunday and saw a patch of Cypripedium calceolus in flower (past prime). Almost every focal plant in the West unit (unburned) had spittlebug spittle on it. Almost none of the focal plants in the East unit (burned) had spit.
We didn't use the tripod to take photos. The camera didn't attach well and the remotetrip feature isn't ready yet. We'll need to work on the tripod and practice using it. I think it holds great potential to speed up and improve our protocol.