For some time, the powers that be on the Echinacea project have thought, "Wouldn't it be nice to compare all we've learned from coneflower with another important native component of the prairie?" Well, this summer, study of habitat fragmentation and its ecological and evolutionary impacts broadens to include an additional species. And the winner is … Stipa spartea aka porcupine grass! The time is right now to collect the seed, which will be sown into the common garden later this summer.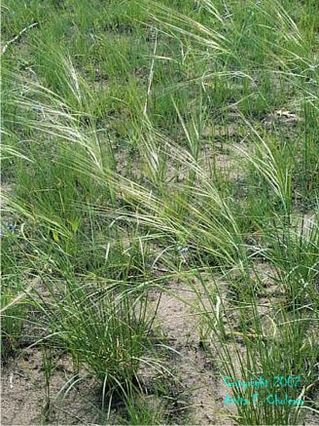 Here's a link to a page from the Bell Museum of Natural History about Stipa spartea.
Below, you will find the sampling protocol that Greg and I used to collect seeds from Staffenson Prairie this afternoon. Stuart may have thoughts to add and the strategy might change a bit as we run into the reality of different Stipa remnant populations. In addition to remnants, we will also be collecting seeds from roadside transects. Expect that challenge to be met later next week.
Protocol for sampling Stipa spartea in prairie remnants.doc