The second week of the 2013 field season for Team Echinacea was excellent. We finished searching for seedlings and found a grand total of 102 seedlings in 13 remnant populations. We laid out the main common garden experiment with over a thousand orange, blue, and lime flags to guide our walking and to enable us to identify individual plants. We also began assessing survival in the recruitment experiment. On Wednesday Ilse presented results to the team on her aster analysis of 17-year fitness records for about 600 Echinacea plants in our main common garden experiment–details to follow. Pam took out her big new photosynthesis machine for its first trial run. Storms and wetness rained us out all day Thursday and we were without power for two hours on Thursday and about 18 hours on Friday. Team members are refining their ideas for independent projects and soon will be able to make their own posts. (IT folks at the UMN said they fixed the access problems-we'll see.) Stay tuned to read about their awesome experimental plans!
You can read about some of our team-members on our their Echinacea Project webpages…
Pamela Kittelson
Ilse Renner
Dayvis Blasini
Kory Kolis
Sarah Baker
Marie Schaedel
Reina Nielsen
What a great team!
Next week we aim to finish assessing survival, flag another experimental plot, measure more plants, work on independent projects, and purchase/make/organize equipment and supplies for our experiments. We are also looking forward to Amy Dykstra's visit. She will talk about her dissertation research.
We are making updates via twitter and facebook. These media have proved to be more reliable than this flog, but we hope that changes soon. See links on the Echinacea Project's main web page. We hope to set up a venue for sharing more of our photos–stay tuned for that, but here are a few photos from this past week…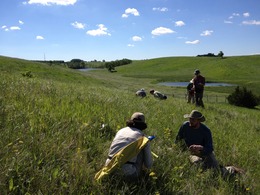 Searching for seedlings at LF (the landfill site).
An orchid (Cypripedium calceolus)
flowering at the KJ site.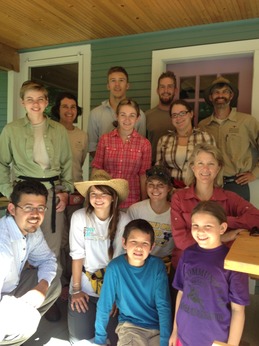 The team on the porch of the Hjelm house.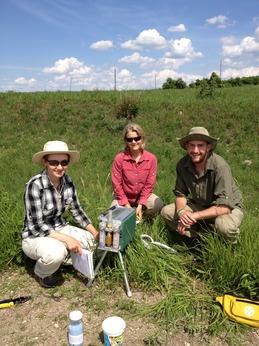 First trial of the new phtosynthesis machine.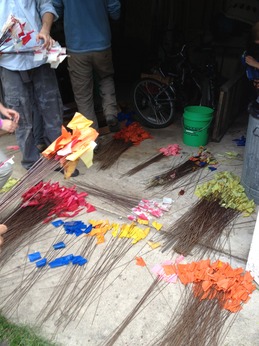 Sorting flags to reuse & recycle.
We estimated 2600 flags here to reuse.