Today was a great day for Team Echinacea. Most of us began our mornings searching for stipa and then went out to Hegg Lake where we finished measuring plants in Jennifer's common garden! Woot woot! I took an photo of the group and was so excited that my finger made it into the photo…whoops! Dayvis continued to observed pollinators and Reina and Pam were super productive measuring photosynthetic rates of plants in INB2 (maybe it's the new wagon they got for lugging around Helga).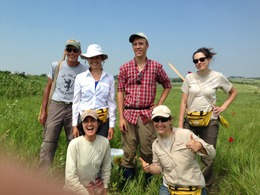 At lunch Kory updated us with his progress on his pollinator efficiency project and Jennifer surprised us with a delicious watermelon as a treat for finishing up stuff at Hegg Lake. Marie did the honors of cutting up the watermelon (little did we know it was her first time).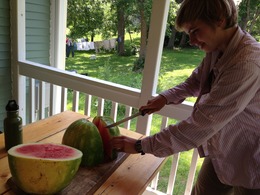 The afternoon felt a bit like deja vu of the morning. We did another round of searching for stipa (rumor has it we're just about half way done!) and then returned to Hegg Lake. Turns out we didn't actually "finish" measuring plants…now it's time to double check all the ones we didn't find the first time. Looks like we'll finish that up tomorrow though, and then be actually done with Hegg Lake for the weekend.
Happy Thursday!