Here are the day's events:
When we arrived at work this morning we came upon a poignant scene. The Wagenius' family dog, Roxie, had was nurturing an abandoned kitten: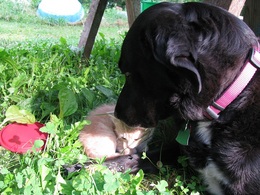 I'm happy to say the poor creature has found a home with Kelly and her parents. Thanks to her loving care (and Roxie's), it is now purring and mewling with gusto.
Once the kitty situation was resolved, we moved on to more serious business. Shona, Maria, Kelly, and Lydia spent the morning working on their individual projects while the rest of us assessed flowering phenology in two experimental plots (C1 and C2).
A lot of work goes into maintaining an experimental plot. In order to keep C1 from being overgrown by woody plants, several of us spent the afternoon trimming ash trees and sumac. The rest of us made progress on our individual projects. Thanks to help from Kelly and Lydia, Jill and I succeeded in setting up ant traps for all but one of our field sites. I'll post more about that later.