Well Billy Joel, although your 1980's classic hit is all too catchy, technically we did start this fire.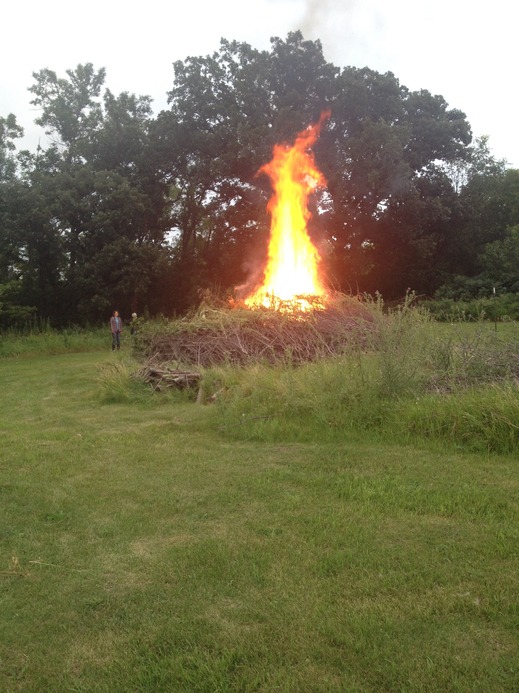 (Our massive fire. Claire for reference)
Over the past weekend, Team Echinacea decided to cap off a week of diligent work with a nice, relaxing potluck paired with an epic campfire. The food was delicious, but the company was even more enjoyable. Stuart and Gretel provided a delectable pesto, Jared and Claire (aka Clairred) prepared a tasty bean dip, and Maureen capped off the scrumptious meal with a cherry pie and a peach crumble that were to die for (not literally of course! That would be ridiculous). Following the feast, a fire was started to honor the great Echinacea Gods, which have blessed us with a prosperous flowering season and delightful weather. There was a little bit of difficultly starting the fire, but no problem is too large for a group of extremely bright scientists (at least that what we tell ourselves anyway). During the fire, Per, Hattie, Elizabeth, and I tested our luck at a friendly game of badminton. I paired up with Per while Elizabeth chose Hattie as her partner. What started as a friendly matchup, quickly turned into a competitive, all-out battle of the sexes! It wasn't long before Hattie and Per were spiking shuttlecocks at each other while Elizabeth and I exchanged looks of distaste. Fortunately, the gruesome battle was cut short when Per spiked the birdie so hard that the rubber tip fully detached from the plastic base portion. I think it's safe to say that this particular birdie won't be flying again anytime soon. Although some harsh words were exchanged (all in good faith of course), at the end of the day, all conflict was left in the past as the team enjoyed roasted marshmallows over melty chocolate sandwiched between two yummy, graham crackers. And if you don't enjoy S'mores, the only thing I have to say to you is "You're killing me smalls!" (If you didn't get that reference, then you need to go watch The Sandlot immediately. If you've never heard of The Sandlot, then I'm sorry but it's too late to save you). All in all, it was a memorable weekend for the members of Team Echinacea.