As dawn broke on yet another day in Kensingtonville, Team Echinacea arose to a dark sky producing ominous rumbles of thunder. An occasional pitter-patter turned into a steady fall of condensed water vapor. The team members wearily turned to each other and half-heartedly debated whether to arrive at base per normal routine. Some, namely Katherine, Jill, and Greg, decided that it would be best to separate from the rest of the crew for a while and work under the grey skies above. Those who remained in the heart of Kensingtonville hurriedly tried to edit abstracts whilst waiting for the skies to be more favorable. After a few dreary hours, sunrays started to peek through the clouds, and then suddenly burst out with blinding brilliance, stunning those indoors. After the initial shock of seeing sunshine, select members of the crew finished their abstracts and drifted off into the land of unicorns and chocolate chip cookies.
After lunch, the two parts of the crew decided that it would be in our best interest to come back together and work as a brave platoon to conquer the plot that is Caroline's, over yonder at Hegg Lake. After a few encounters with fierce toothpicks and cardinal directions, Team Echinacea prevailed!! (And finished early. Woohoo!!)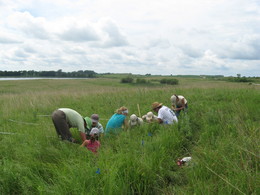 Team Echinacea has taken on another difficult task: the task of mastering the Dread Pirate R. And his crew of R.O.U.S.'s (R-scripts Of Unusual Size). R comes to you at night and steals your sanity. But only part of it. There's a big difference. The crew has differing opinions about R:
Those who don't mind it too much:

And those who mind it quite a bit: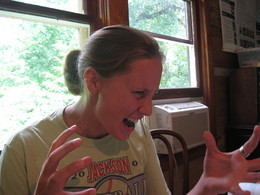 On the brighter side of the spectrum, the crew finished the day early, and therefore had more time to lounge around/nap/work on projects. A few decided to go for a swim in the great Elk Lake before dinner (which was quite nice, if I might say so myself).