My name is Mike Howe and I am a senior at Gustavus Adolphus College in St. Peter Minnesota. After spending one summer studying plant demography and pollen limitation in prairies, I was lucky to get involved with the Echinacea Project for this summer.
This summer I will be working with Dr. Pamela Kittelson focusing on how genetic diversity interacts with herbivory and ecophysiological traits. One of the ecophysiological traits we hope to explore is photosynthetic rate using a LiCor-6400 machine. It should be interesting to relate photosynthesis and other ecophysiological traits to genetic diversity.
In my spare time, I am an avid cyclist, runner, and I Nordic ski for Gustavus. I am planning on exploring the roads around Kensington via my bike and rollerskis! Hope to see you around up here!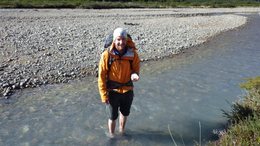 Valle Hermosa, Future Patagonia National Park, Aysen, Chile