We hope everyone had a good Thanksgiving and is embracing the cold weather and snow! A couple big things have happened in the lab over the last few weeks.
We have two interns, Grace and Aaron, from Carleton College who are working in the lab during their winter break.Their main project has been deciding how to proceed with the Echinacea pallida and E. angustifolia heads we harvested from Hegg Lake this fall. Dayvis observed pollinators and took phenology data on these heads during the summer for his REU project and now we're interested in seeing if these two species have actually hybridized in nature. Grace and Aaron are currently working on making flowering schedules for the heads we collected.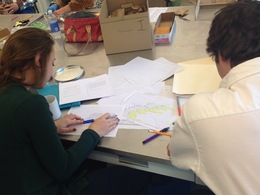 Stuart heard back from the NSF with good news! They're funding the proposal he submitted this summer! With this grant money he plans to examine constraints on reproductive fitness of Echinacea in remnants by combining data on spatial isolation, flowering phenology, and mating compatibility. Really cool stuff!
Other than that, it's business as usual here at the Chicago Botanic Garden. Our volunteers have been working hard cleaning heads and counting seeds. We're definitely making headway on this year's harvest!
Stay warm!