The preliminary results for our Dalea purpurea experiment are in! Melisa, our Lake Forest College student, came for the final installment of her mini-internship yesterday where we analyzed the results of the full pod counts. Just as a reminder, these pods originally came from 120 D. purpurea plants in 6 remnants (Lf, Spp, Sgc, Woodys, Rrx, and On27) and we hypothesized that the sites with the largest populations (Spp and Lf) would also have the highest seed set. After looking at the xray images (see a photo example below), we compared average seed set, as measured by full pod counts, across the 6 remnants and found that On27 and Woody's had the highest seed set. There was enough variability between sites that our results were significant (meaning that site matters when looking at average seed set of Dalea purpurea populations). Obviously sheer remnant size is not the only factor influencing seed set in these populations since On27 and Woody's especially, are relatively small. More investigation to come!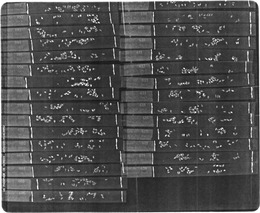 Our volunteers have been hard at work cleaning and counting the past few weeks. After recovering two "missing" boxes of achenes from 2011, Susie finished up all the weighing that needed to get done and we were able to organized the 2011 achenes in hopes of getting them placed in long term storage later this year. Here's an action shot of Susie and Susan cleaning!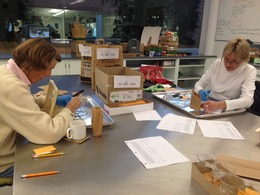 I'm in the midst of searching for background literature on inbreeding and phenology as I'm hoping to asses whether mating system influences flowering time using Team Echinacea phenology data in the INB gardens. I'll keep you all updated as these results come in.
Stuart's off to Minnesota and I'm off to Rhode Island today to celebrate Thanksgiving. We hope you all have a wonderful holiday!