Last week the volunteers began cleaning heads from this years harvest. It was a productive week; we cleaned ~60 heads.
This week and last week students from Lake Forest College came to the botanic gardens to begin mini-internships. They will be coming two more times in the next two weeks to assist various labs in projects. For our project, we're looking at seeds of Dalea purpurea we collected from six different remnants this fall (SPP, Woodys, RRX, On27, SGC, and LF–120 plants total). We're planning on taking a sub-sample of seeds from every plant and x-raying them to see if seed set varies in different remnants. The past two weeks we've had Melissa (our student) randomize the seeds to take our sub-sample. We'll keep you posted on our findings!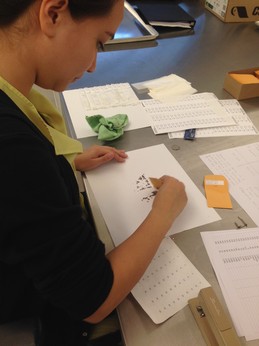 Our hope is eventually to plant these Dalea seeds among our Echinacea in the new common garden (south field). Who knows, this could be the beginning of The Dalea Project.
In other news we've already got volunteers underway with counting full achenes in our X-ray images (see flog post below for example) from the qGen2 crossing experiment and soon we'll be able to analyze these data and see how seed set varies among different crosses.