We took some high-quality images of Echinacea achenes for our q2 experiment this fall; an example is below. Notice how easy it is to distinguish empty achenes from those with embryos. By darkening the room and removing the opaque film, we were able to use lower levels of xrays for a shorter duration than we have previously. This plate was exposed to 12kV x-rays for 4s. We used long, thin glassine envelopes to facilitate counting. Notice also that the laser-printed labels reveal the packet IDs.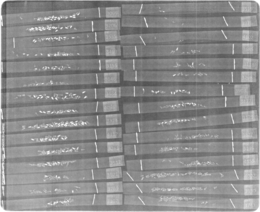 X-ray image of 30 packets of achenes from
Echinacea angustifolia. Click on thumbnail to enlarge.